How do you like your lamb? Meet some of the resilient Aussie farmers behind our grass-fed, free-range lamb.
Here at Our Cow, we pride ourselves on connecting families all around Australia to where their food comes from. One of the ways we like to do that is by sharing the stories of the farmers behind some of your favourite cuts.
If you've received a delivery from us before, you'd already know there's nothing quite like unpacking your box and discovering the name and location of the farm in which your produce came from.
Our Farmers: Sam & Emma from Sander Pastoral, Warialda NSW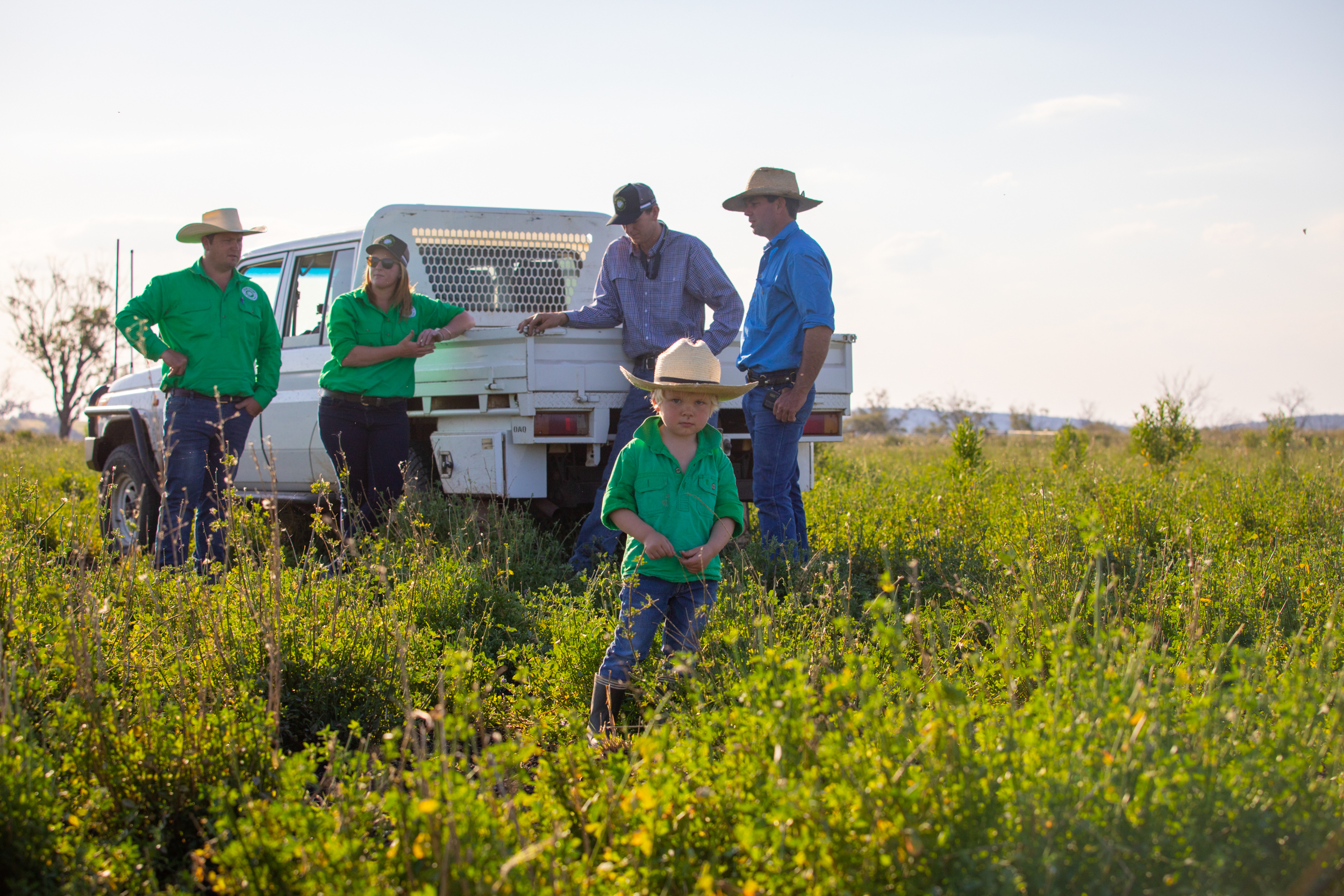 One of the first farming families we worked with is the resilient young couple behind Sander Pastoral, a picturesque blacksoil farm near Warialda, Northern NSW.
Sam and Emma, along with their two gorgeous kids, and Sam's brother, took over the reins of the family farm, which not only includes a large herd of Aussie White Sheep, but also a broad acre cropping enterprise.
They've faced many challenges since, including making the switch from cattle to Aussie White Sheep after horrific drought. Today, their livestock is happy and healthy, feeding off the rolling green hills, but it wasn't always like this.
"Before the droughts, we traded beef. In 2018, we sold the last of our cattle as there was no grass for them to eat, and as it started to rain, we got back into sheep, which has been great." says Sam.
Grass Fed & Free Range Farming
A lot of time, effort, love and heartache goes into creating the food we get to eat, particularly free-range, grass-fed lamb and it all starts from the ground up. The soil on Sam's farm is some of the heaviest around, which is perfect for growing high-protein crops like lucerne.
"It's thick, black volcanic soil which is really good for cropping. We've got a crop here which is a legume plant, which is great for grass-feeding sheep and it puts a bit of nitrogen back into the soil. It all works together really well. The sheep nibble at the plant, taking the tops off before we move them onto another field to avoid the plants being worn down too much. Otherwise, it doesn't grow back too well. It takes a bit of work to get it where it is, but we want the Lamb we supply to Our Cow to be top quality."
The Care Factor
We asked Sam & Emma why they like supplying meat to Our Cow, and they said:
"We saw what you're about and what you're doing and we think it's a great thing. It's so important to get out there how much we care about our livestock, and our plants - these sheep have had a good life and they're from a family who's cared for them. We know these lambs have been looked after the best we can, and we think it's a great thing having our meat go straight to customers of Our Cow. We love being onboard with you, we feel very lucky!"
The benefits
You see, when you choose to source your meat from us, you're supporting farmers who truly take care of their animals and the environment. Free-range, grass-fed livestock is not only happier, but also contributes towards soil regeneration, carbon sequestration, water purification, reduction of fossil fuel consumption and improvement in air quality.
Not only are Sam's farming practices good for the environment, they're also better for you too. Grass-fed and finished Lamb results in a better product, meaning you can rest assured that your family is enjoying a completely natural product. You'll be getting plenty of vitamins and minerals too, since Lamb is a good source of iron, zinc and B vitamins (just to name a few!).
How do you like your lamb?
Build your own box and choose from range Lamb products available or try a handpicked selection of Loin Chops, Shanks, Cutlets, Spare Ribs, Forequarter Chops and Mince. It's the best tasting Lamb you'll ever eat.
Taste of Australia host Hayden Quinn agreed when he tested our Lamb mince out for himself. "This has got nice fat content, which produces really juicy koftas, burger patties or whatever you're making with your mince." Hayden created a delicious recipe for Lamb Koftas using Sam & Emma's lamb mince, check it out here.
Choose some grass-fed free-range lamb from farmers like Sam & Emma in your next order and you'll taste the difference too! For more recipe ideas on how to cook up your favourite cuts of lamb, take a look at our Recipe Section.